Are you sure? If you change your country now, any items you have added to your quote will disappear.
Your location
Please set your location to see relevant stock levels. Freight costs and taxes will be calculated once you log in.
Note: changing your location will empty your cart.
RecycleMe™ appears at the Australian Circular Fashion Conference
March 21, 2019
Detpak's RecycleMe™ System took front of stage at the Australian Circular Fashion Conference.
With delegates discussing how the fashion industry keeps sustainability on the agenda, attendees were provided with coffee thanks to Veneziano Coffee Roasters and The Coffee Mob in RecycleMe™ cups.
These cups provide a sustainable solution for takeaway coffee cups, guaranteeing collected cups will be recycled within existing infrastructure in Australia.
As the fashion industry looks to lead with sustainable practices, from raw material sourcing, to the way products and garments are sold, right through to the end of life options for garments - we're proud to be supporting the foodservice industry in applying the same principles and leading practices thanks to our RecycleMe™ System.
A present theme for Day One of the Australian Circular Fashion Conference was an emphasis on a need for collaboration, and for different areas of industry to consider how they can work together to move toward a circular economy.
Collaboration. That word keeps coming up. It's what we have to do to move to a circular economy. We must be able to work together


Monique Halliday, Head of Procurement and Environment - Australia Post
This sentiment is echoed through the collaboration required to successfully execute the RecycleMe™ System – from the development of the cup lining, through to working with collection partner Shred-X on the collection and recycling logistics for this system.
And the collaboration continues, with locations taking on the RecycleMe™ System now playing an important role in educating consumers about the innovative cups and how to ensure they are successfully recycled.
Learn more about RecycleMe™ at recycleme.co.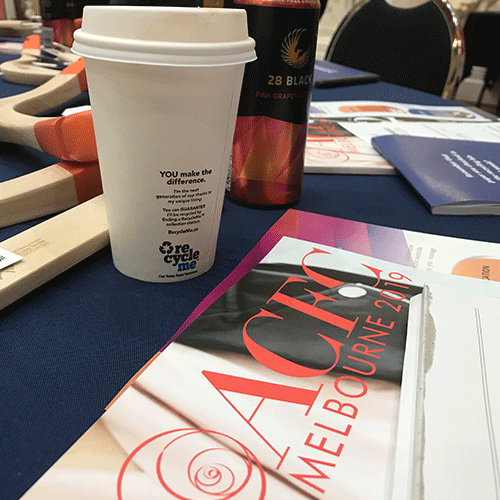 Back to Latest News