Are you sure? If you change your country now, any items you have added to your quote will disappear.
Your location
Please set your location to see relevant stock levels. Freight costs and taxes will be calculated once you log in.
Note: changing your location will empty your cart.
Awards - Triple wins for Detpak
The Detmold Group were recently recognised with three awards; the Hungry Jack's Supplier of the ear Award, as an Outstanding Achiever with the Australian Packaging Covenant and as an Australian Business Award Employer of Choice.
Hungry Jack's recently recognised Detpak Australia with the inaugural 'Supplier of the Year' award.
This award was presented at the Hungry Jack's awards dinner as part of their National Conference in the Hunter Valley in late August.
Recognising Detpak's commitment to customer service, innovation, quality, reliability and strategic alignment, this was the first year that Hungry jack's presented this award.
Detmold Group's General Manager of Marketing and Innovation Tom Lunn said he was proud for Detmold to receive this award in its inaugural year.
"This acknowledges many years of hard work, passion and persistence by the business in continuing to pursue excellence in quality, service and efficiency," Tom Lunn said.
Detmold were also singled out as an outstanding achiever in the Australian Packaging Covenant, receiving this award for the fifth consecutive year.
Tom Lunn said that this particular award recogised a commitment to sustainability from Detpak over serval years.
"Detpak's consistency in being recognised over the past five years confirms our commitment to providing solutions that are sustainable and reduce harmful environmental impacts," Tom Lunn said.
And, in taking a recent trifecta of awards, the Detmold Group were also recently acknowledged with the Australian Business Awards Employer of Choice award.
Detmold General Manager of Human Resources Jenny Harvey said that there were many factors that contributed to Detmold securing this award for the second year in a row.
"Several reasons were cited in the announcement of the award, including; the e-learning modules that provideour people with global access to consistent information and the development of Detmold's graduate program, which continues to grow and invest in new talent," Jenny Harvey said.
30/10/17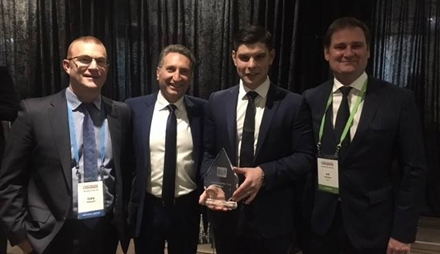 John Niachos, Senior Business Manager Detpak (second from right), and Alf Ianniello, CEO of Detmold Packaging (right), accepted the Hungry Jack's Supplier of the Year Award from Gary Peacock, Senior Category Manager (left) Hungry Jack's Australia, and Laurence Melara, General Manager of Supply and Logistics (second from left) Hungry Jacks Australia.