Welcome to Detpak
Looks like you're browsing in United States.
Please make the appropriate selection here to see relevant pricing, tax and availability.
If you wish to change your country selection later, just use the drop-down menu at the top of each page.
Are you sure? If you change your country now, any items you have added to your quote will disappear.
QSR Media Detpak Awards and Conference
The QSR Media Detpak Awards, held last week, recognises and celebrates the very best of the Australian quick service and fast casual restaurant industry.As well as the awards, the conference gave experts across the quick service restaurant industry the chance to discuss issues including digital marketing, the reinvention of the convenience sector, and the evolving food delivery sector.
Kristin Camery, Group Product Marketing Manager presented at the conference, and said food delivery and sustainability were the key topics of the day.
"We shared with the audience more information about Detpak's RecycleMe™ cup, and the representatives from the QSR sector were so receptive to that message. We're really working hard to find a long-term viable solution, and know that it has the potential to make a huge different to the amount of waste sent to landfill by businesses in this sector."
Detpak was proud to sponsor the event, with conference participants enjoying hot drinks served in Coffee OriginsTM Cup Gallery cups.
30/06/2017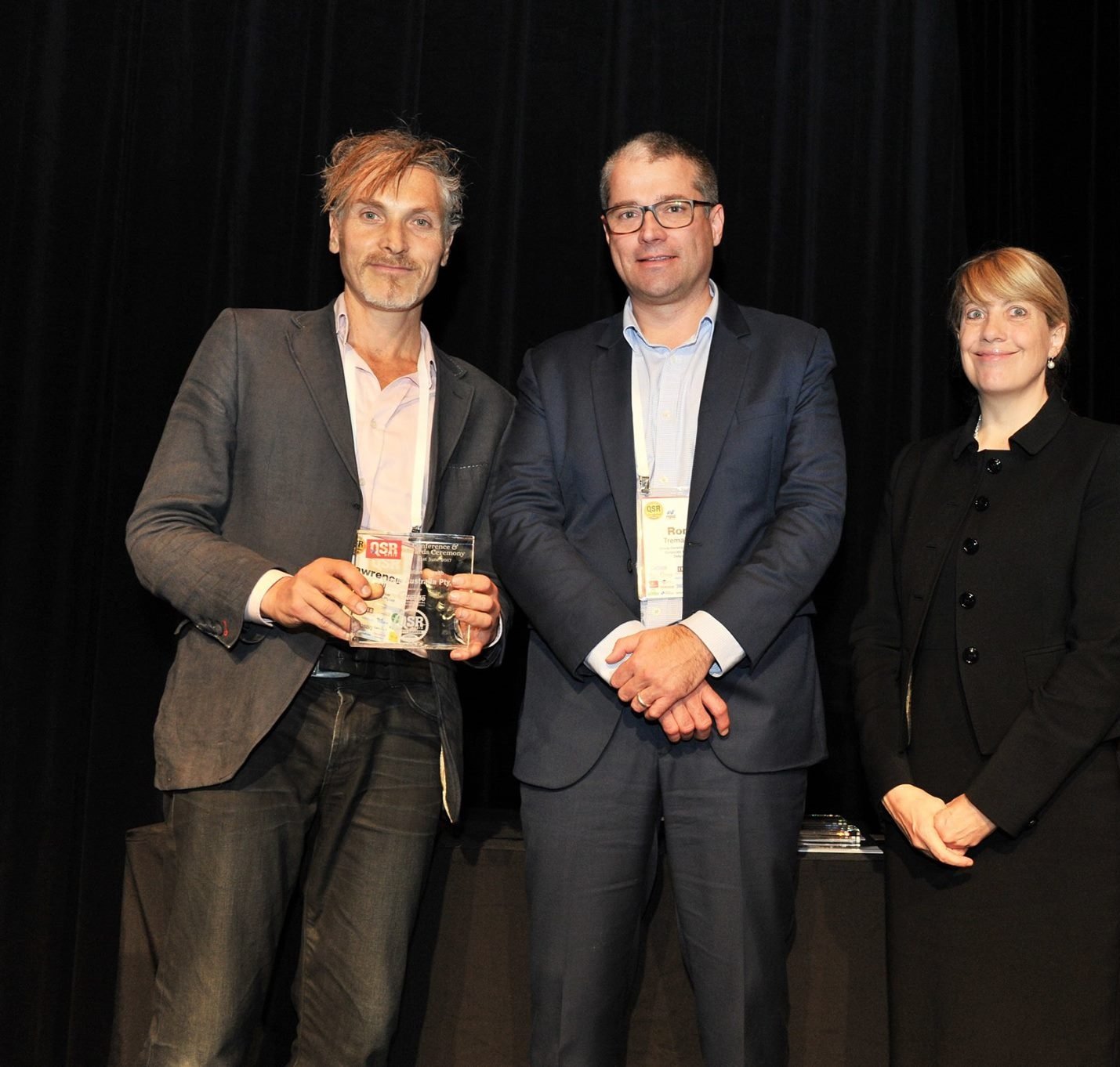 KFC Australia recognises Detpak's contribution
At KFC Australia's recent awards night, Detpak Australia was recognised for an outstanding contribution to KFC's growth and brand performance. Ben Suttell, Detpak Business Manager, was awarded the Supply Chain Link Award for his contribution to KFC's success. He says, "This is a result of sustained persistence, cross-company collaboration, and resilience from all divisions of the company." Detpak also received the Corporate Social Responsibility Award for our support of KFC's sustainability efforts. These awards acknowledge the efforts of everyone across the business who contributes to our long-term success with KFC.
23/06/2017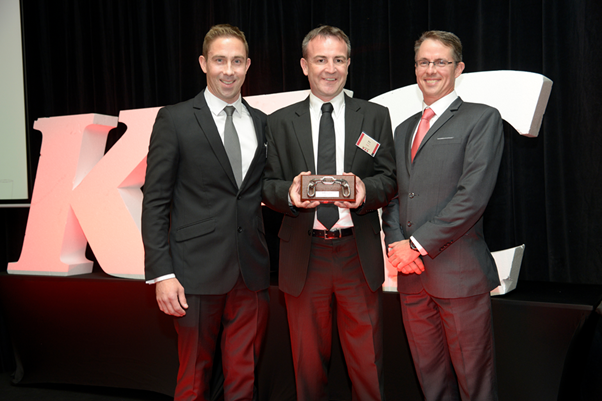 Focus on environmental awareness at HOFEX
Earlier this month, Detpak exhibited at HOFEX, Asia's leading food and hospitality tradeshow.
An increased awareness of environmental issues across the Asia Pacific region meant plenty of interest in Detpak's eco packaging.
"People liked our 'Make the Move to Paper' initiative, as globally many cities have banned, or will ban plastic bags. Businesses want to learn about our sustainable, reusable and recyclable paper alternatives," said Kimmy Leung, Detpak Sales Manager - Hong Kong.
"We also launched our 100% compostable packaging range, I am eco™ in the region. It's made from sustainable materials, without compromising function or quality."
25/05/2017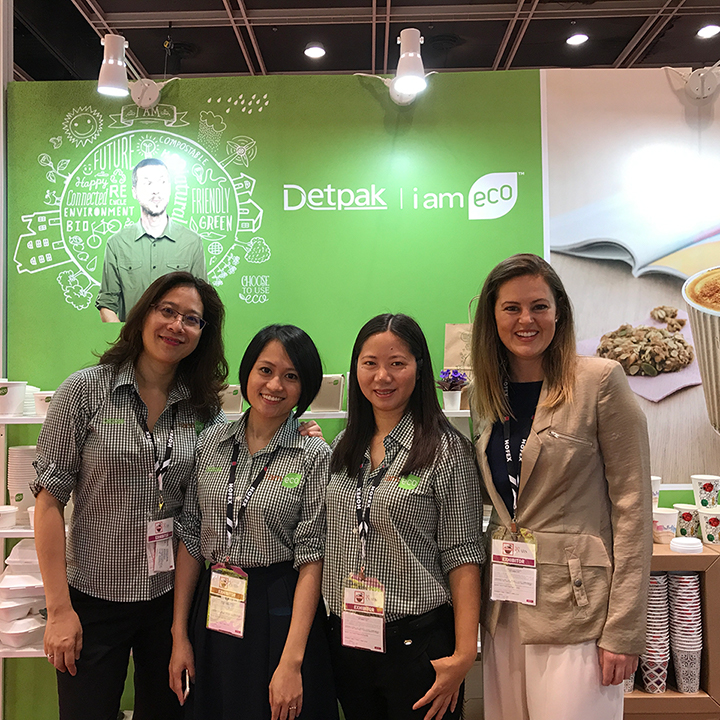 Detpak-designed KFC Go Bucket wins Good Design Selection
The KFC Go Bucket recieved a Good Design Selection in the Communication Design Category, in the 2017 Good Design Awards.
Designed by Andrew Good – Group Design and Innovation Manager and Max Hughes – Design Specialist from Detmold LaunchPad, the Go Bucket delivered on a brief from KFC Australia to utilise the iconic aesthetic of the KFC bucket and adapted into an easy-to-use snack concept which kept the food integrity.
Andrew Good said "we refined the lid to include vents to allow steam to escape, which, combined with the innovative use of "gills" on the cup, create the stack effect keeping the fried chicken and chips crispy."
The Good Design jury stated, "This packaging project solves practical challenges associated with the brief in a clever way. The Jury commends the clever design of the lid and its tight grip onto the cup."
15/05/2017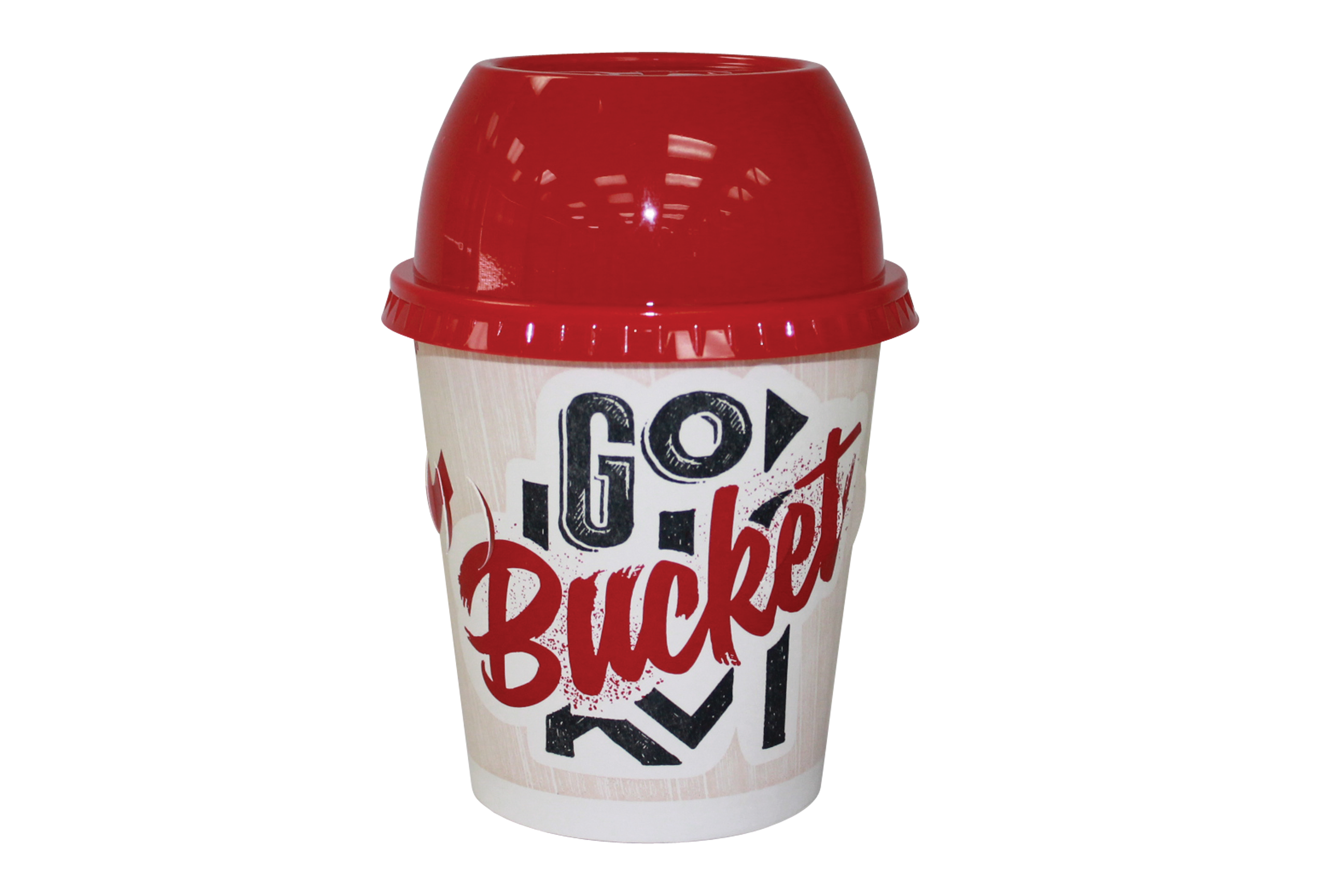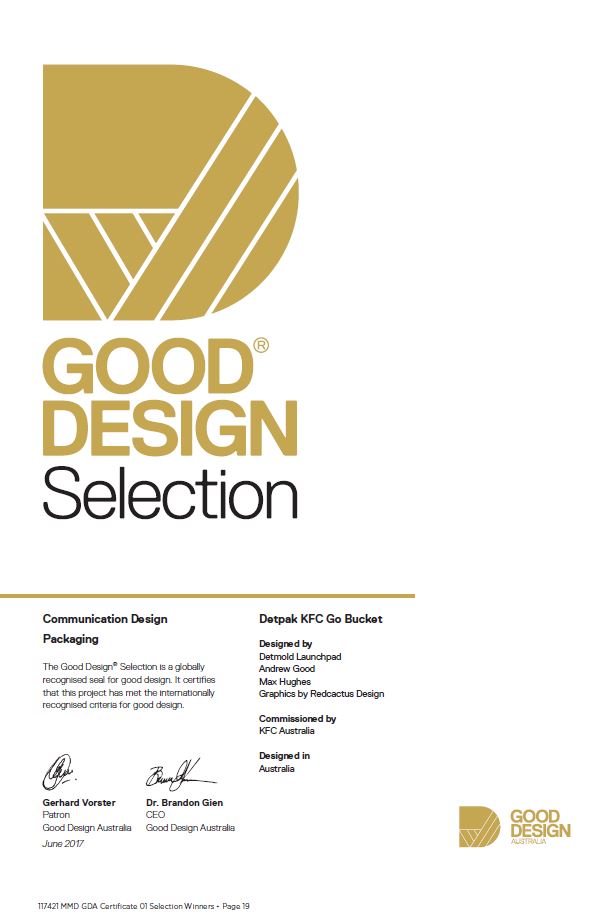 Detpak NZ named Supplier of the Year for Restaurant Brands Ltd
The Detpak New Zealand team was named Supplier of the Year for its biggest customer, Restaurant Brands Ltd which operates KFC, Carl's Jnr, Pizza Hut and Starbucks in New Zealand, and their award night recently.
Detpak General Manager New Zealand Daniel Cross said the whole team was delighted to receive the award.
"This win should be shared by our whole company. We thank the plants, all internal departments, and the local team in New Zealand for their contributions," he said.
"Restaurant Brands is a leading business in New Zealand, with aspirations to significantly increase in size as they enter new markets. This win is a reflection of our commitment to support this growth as they expand their global footprint."
20/04/2017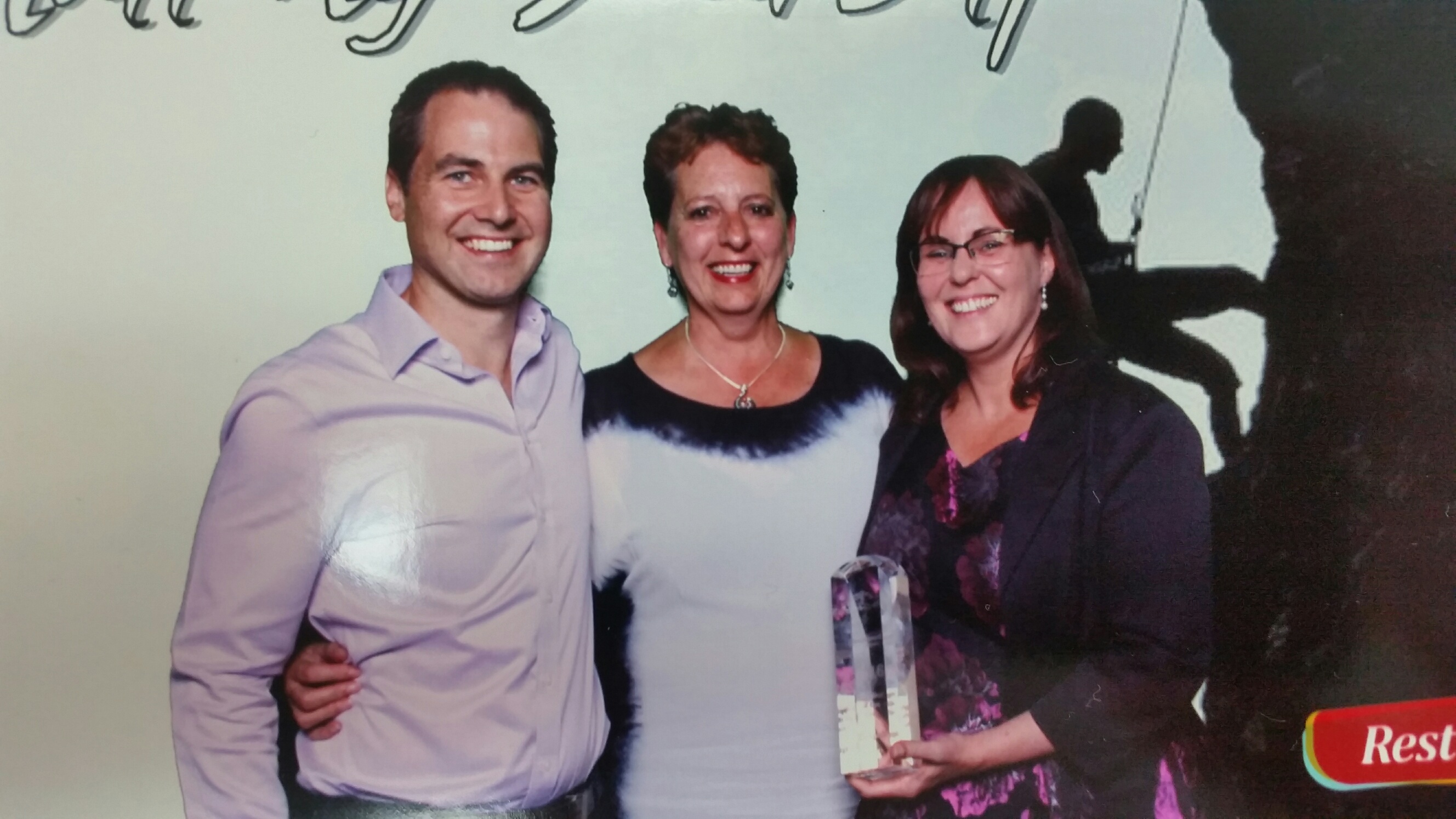 SUBSCRIBE AND STAY INFORMED
Receive the latest in products, trends, news, events and tips.