Welcome to Detpak
Looks like you're browsing in United States.
Please make the appropriate selection here to see relevant pricing, tax and availability.
If you wish to change your country selection later, just use the drop-down menu at the top of each page.
Are you sure? If you change your country now, any items you have added to your quote will disappear.
Detpak packaging is used by brands around the world to help showcase their products. Read on to learn how different foodservice businesses use Detpak to find the right packaging solutions to fit their needs, and enhance their brand.
SPAR Alexandra Headlands
Challenge
Queensland is poised to ban the bag, with single-use plastic bags being banned across the state from July 1, 2018. But SPAR Alexandra Headlands supermarket were ahead of the times, with owners Bruce and Sue Luchterhand previously living in South Australia, where the plastic bag has been banned since 2009. Bruce Luchterhand approached Detpak in July of 2017 about making the move to paper bags.
Process
The Detpak team worked with Bruce on providing several sized bags as viable alternatives to his previous plastic options. The team also assisted in designed paper uniforms for Bruce's team to wear as part of the launch of the store's move to paper, which attracted attention from locals and media. The bag designed for SPAR also featured key facts about why Detpak champion paper, making this an education tool as well as a strong and sturdy alternative to the plastic bag.
Impact
Bruce and SPAR decided to go with two different sized paper bags, available for purchase at 30c and 40c, with 5c per bag going toward a charity to keep Sunshine Coast beaches clean. Customers have been positive about the change, knowing that the move to paper is the more environmentally responsible option. Bruce said that customers are even bringing their paper bags back with them on repeat visits and recycling them numerous times.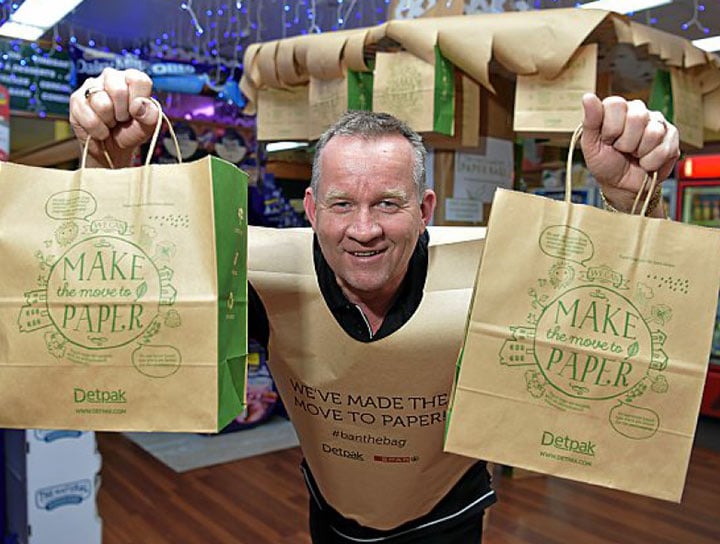 Thanks again to the Detpak team and we look forward to being pioneers in bringing back 'paper'. We could not have done it without your teams amazing support. I would encourage anyone that can to '#banthebag' and bring back paper!
- Bruce Luchterhand, SPAR Alexandra Headlands
The Australian Mobile Food Vendor Group (AMFVG)
Challenge
The Australian Mobile Food Vendor Group (AMFVG) knew its members were facing increasing packaging costs, and substantial hassle dealing with multiple packaging suppliers. AMFVG wanted to find the most cost-effective, reliable packaging solutions, to cater for all vendors at any event, that were also functional, versatile and attractive.
Process
AMFVG worked with Detpak to create a custom-printed packaging range exclusively for members of the group. Detpak's artists and product designers worked with the group and mobile food vendors to find what products needed to be included in the range, and exactly how they needed it to function. For mobile food vendors, it's vital that the packaging can cater for all food groups at any event.
Impact
The "For the Love of Street Food" range of packaging items features a fun, engaging design, created by Detpak exclusively for the AMFVG. The Endura packaging items are strong and sturdy include fun facts about street food, like "Australians are the second most likely to Google 'street food' after Singapore". It also includes a hashtag for interactivity -#fortheloveofstreetfood
Group members can order the packaging, confident they'll receive eco-friendly, cost-effective, highly functional packaging designed to optimise the presentation of their street food.
The AMFVG says:
The innovative, tested, eco-friendly and cost-effective packaging is the perfect fit for busy vendors with packaging designed to optimise the presentation of street food.
- Director, Australian Mobile Food Vendors Group
La Cesar
Challenge
Detpak has supplied La Cesar, a pizza chain based in China, since 2013 as their major packaging supplier. In 2016, La Cesar approached Detpak to develop eye-catching, unique packaging for a new promotional item, a round pudding cup, for both dine-in and takeaway use.
The packaging carton had to be easy and quick for staff to assemble, as well as strong enough to hold the pudding cup securely.
Process
Detmold Launchpad designers worked closely with La Cesar to produce the most functional packaging item. Detmold Launchpad designers improved on a concept supplied to La Cesar by a design agency, producing samples for further testing.
Through continued collaboration with La Cesar, more prototypes were created, and the product evolved from being two separate SKUs (an outer carton and a cup insert) and opening from the side, to one SKU and opening from the bottom with a hinged lid.
After this stage was reached, the only feedback from La Cesar was to make it taller.
Detpak worked with La Cesar at every step of the process, from taking the concept, refining its structure, to delivering in full on time, with the entire process only taking two months.
Impact
A custom-designed, diamond-shaped carton with a hinged lid that opens to reveal a pudding cup held snugly in the base, described as opening like a ring box. As it is made from one piece of paperboard, it is fast and easy for in-store assembly and use. With La Cesar's custom print, it truly meets its brief of being an eye-catching, unique packaging item, and is a fun, interactive product for customers eating the pudding.
PappaRich
Challenge
PappaRich is a high-profile chain of Malaysian restaurants, with 22 around Australia. For their PappaRich 'Express' stores, the chain needed a 32oz-sized bowl to offer takeaway dishes including Curry Laksa and Nasi Lemak. The bowls also had to withstand having the hot product in it for an extended time.
Process
Detpak worked with PappaRich, presenting a range of innovative takeaway packaging solutions, and offering custom print for the highest branding impact.
To ensure a perfect fit and performance, Detpak performed plenty of in-store testing with different dishes in different sized bowls.
Detpak also tested its bowls against others on the market, keeping soup overnight, and found they outlasted competitors' offerings.
Impact
The solution is a custom-printed 32oz bowl, specially proportioned to suit eating soup and noodle dishes like laksa and nasi lemak.
Since the successful creation of their 32oz bowl, PappaRich has worked with Detpak to create a slightly smaller 28oz bowl for rice dishes, now in production and soon to be in use in-store.
PappaRich says:
The results have been great; we are selling more takeaway food now than we ever have. It is also great for our outlets located at Universities as the students and staff can easily eat their meal around the campus. The bowls that we've got through Detpak are freezer safe, microwave safe and remain intact even a day or two later after use.
– Brandon Lai, PappaRich
Perth Arena
Challenge
Perth Arena, opened in 2012, is a 15,000 capacity venue. It features striking architecture, including a unique diamond-shaped peak. Its catering service had been using a sugarcane bagasse chip cup but were looking to refresh and update their packaging offering.
The executive chef at Perth Arena, Paul Beard, said they were looking for something more than a rectangular chip box. They wanted their packaging to match the experience of seeing world class acts at an amazing venue.
Perth Arena is a unique venue, and our chip cups had to reflect that. We really wanted a packaging solution that was from outside the box.
Process
Two senior members of Perth Arena staff came to Launchpad, Detpak's centre for rapid innovation and prototyping, to experience a day of research and development. The packaging experts at Detpak worked within Perth Arena's requirements, which were:
to be an environmentally-friendly chip cup;
to be flat-packed, because the Arena could need to store up to 125,000 pieces of stock at a time;
to be easy to assemble during high volume of sales occurring in very short time periods;
to match the previous packaging item's volume, to align with Perth Arena's existing menu and ensure their customers get great value for money.
In one day with Detpak's Launchpad, Perth Arena's management provided their brief, and were able sit in the room with product designers and artists, experience innovation in real time, and see and feel prototypes. After being presented with multiple packaging options, they walked out the door with a firm direction for their new packaging and samples for testing, all in less than 24 hours.
Impact
Detpak designers created a chip cup that has a striking profile and unique pyramid peak, just like Perth Arena itself. It's flat-packed for easy storage; constructed from study fluted board, so can take hot and greasy chips; and is easy to assemble in high-pressure situations. From attending Launchpad to using the new chip cups in the arena, it was less than six months.
Perth Arena says:
There was plenty of excitement from the team when they all saw the cup for the first time. It's practical, and people get what its design represents – Perth Arena itself. Our staff and customers also appreciate that it's more environmentally friendly, without compromising on function.
– Paul Beard, executive chef
Genovese
Challenge
Genovese Coffee have been roasting coffee in Melbourne, Australia since 1970, and have stayed true to their aim of providing the Australian market with a true Italian espresso coffee experience. Many of Genovese's customers are small cafes that cannot meet minimum order quantities for custom-print hot cups. Their café customers wanted cups that matched their individual "vibe", but they needed a way to custom-print economically and in quantities that made sense to independent cafes. Genovese approached Detpak to find the best way to offer their café customers a bespoke hot cup solution.
Process
The experts at Detpak recommended Genovese use the Digital Cups service, which offers high quality photographic print, with no plate set-up or charges, saving money, shortening lead times, and available with lower minimum order quantities. Genovese also made use of Detpak's in-house art department, meaning they could get a completely customised design, co-branded with their café customers, without needing to engage an external designer. The designers took Genovese's ideas, and maximised all logos and pictures to ensure premium presentation for their brand. One main point of contact within Detpak meant communication was clear, and could coordinate all aspects of the project to ensure it was delivered on time.
Impact
The end result is a custom-printed hot cup, designed to fit the individual aesthetic of Genovese's café customers. Independent cafes who purchase their beans through Genovese now have a solution to sell their takeaway coffees in stylish hot cups that offer the benefits of unique packaging without the cost or large minimum order quantities often associated with custom print.
Genovese says:
The end result looked great, and of course there was no issue with quality or performance of the cup. Our customers are so pleased that we are able to help them with something that was very important to them.
– Martin Jackson, Operations Manager, Genovese Coffee
Hokkaido
Challenge:
Hokkaido Baked Cheese Tart is a chain of bakeries that offer delicious tarts made from a three-cheese blend with a biscuit-like pastry. The people at Hokkaido came to Detpak with a brief to create a box that would look great, as well as safely carry six of the tarts, while also having a viewing window so the customer could see their tarts as they carried them away. As the tarts are often packaged straight out of the oven, the window packaging needed to be fog-proof.
Process:
The Hokkaido team engaged the services of LaunchPad, Detpak's centre for rapid innovation. The LaunchPad packaging experts created multiple prototypes for Hokkaido to use for testing, so they could be sure the packaging would function in-store. Following the testing, Hokkaido provided feedback to LaunchPad, who improved the packaging according to the functional needs of in-store staff, before an appropriate packaging solution was chosen and put into production.
Impact:
The final design is box with a fog-proof window, produced by Detpak, and is now in use at Hokkaido Baked Cheese Tart stores. The team at HBCT commented that the packaging fulfills their brief of showcasing the product with a viewing window that will not fog up, is strong and sturdy, and comfortable to carry.
Hokkaido Baked Cheese Tart says:
The team were very helpful and honest and helped provide packaging solutions for us. Our customers love our packaging and it forms an important part of our brand, it looks great, feels great and fits its purpose very well. Our customers have said that the packaging is "cute" and "kitsch", they love walking out of our store carrying the Hokkaido Baked Cheese Tarts.
SUBSCRIBE AND STAY INFORMED
Receive the latest in products, trends, news, events and tips.