Are you sure? If you change your country now, any items you have added to your quote will disappear.
Your location
Please set your location to see relevant stock levels. Freight costs and taxes will be calculated once you log in.
Note: changing your location will empty your cart.
Cut the rubbish: Why recycling is a good option for takeaway cups
As part of our ongoing commitment to demystify the topic of packaging; how to source it, how to use it and most importantly, how to dispose of it, we have cut the rubbish with a simple explanation of cup options.
The Waste Management Hierarchy is a great reference tool to ensure you are doing the right thing when it comes to the end of your cup's life. It sets out options for dealing with packaging waste (such as takeaway cups), in order from most to least preferable for sustainability.
Reduce – The best thing you can do is to reduce. We are all in the game of reducing waste and therefore takeaway cups in the ecosystem. However, drinks need a vessel to be held in and we don't all have the time to sit in any enjoy our coffee 'in-store'.
Reuse – Where reducing is not possible, the next most preferred option is to reuse. When it comes to cups 'on-the-go', this is a behavioural change that is now widely accepted but it is not always convenient to bring your own reusable cup.
Recycle – When it is not possible to reduce or reuse, recycling is a good way to deal with packaging waste, especially cups. True recycling enables product materials to be kept at their highest value for as long as possible – contributing to the circular economy.
Recover/Compost – Provided you are based in a council area that accepts compostable food packaging as part of their kerbside services, compostable may be the right choice for your takeaway cups. When processed at commercial composting facilities, compostable packaging can be converted into compost, contributing to the circular economy.
Landfill – This is the least desired, but unfortunately most common, outcome for single-use cups. The energy, water and natural resources that go into making packaging which is only used for a matter of hours is simply a waste.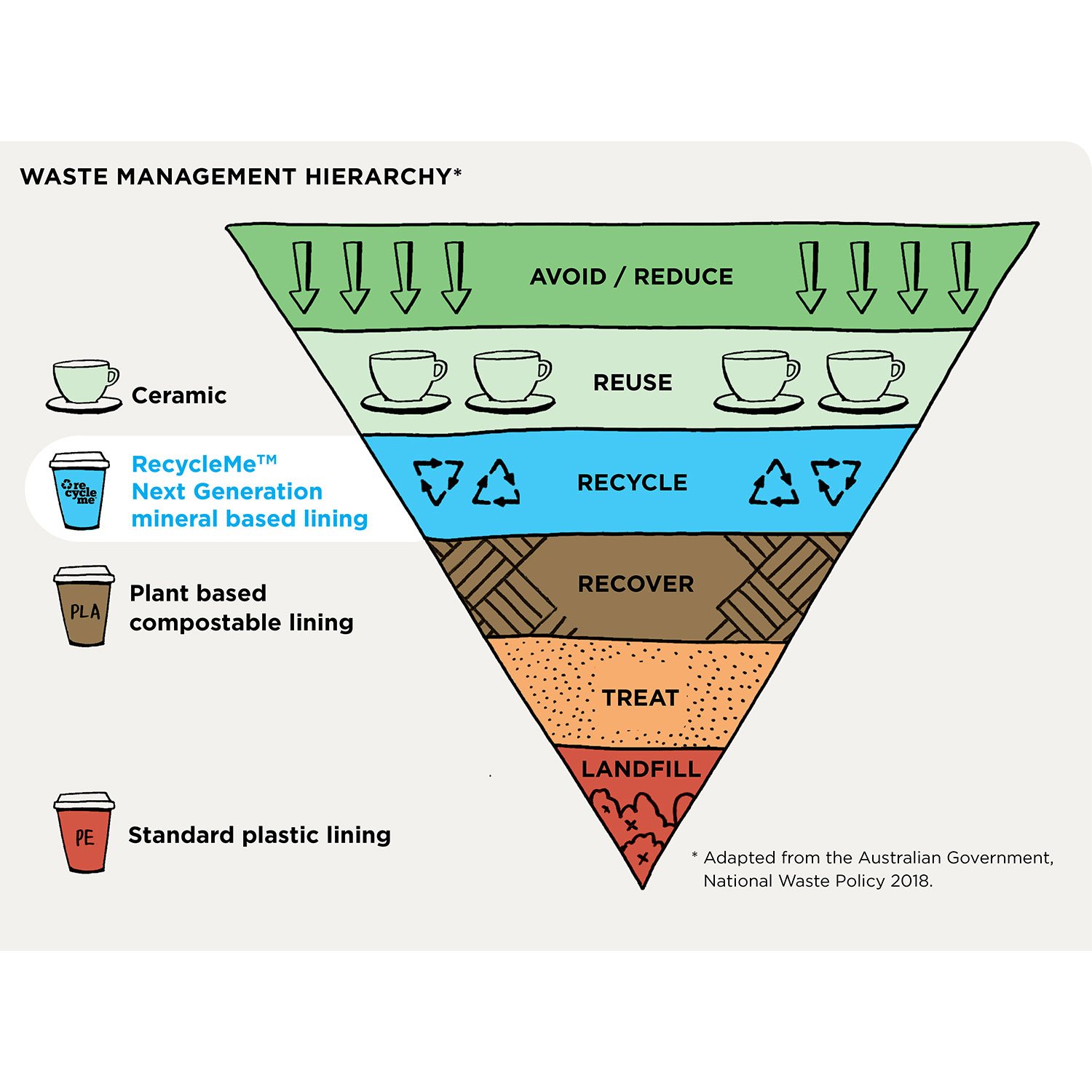 Recycling cups has been a big talking point, for a number of reasons, and we are cutting the rubbish with RecycleMe™. This is the only takeaway cup that is guaranteed to be recycled into high quality paper products.
Sign up to receive our RecycleMe™ updates.
Or back to Latest News.
Sources:
https://www.smh.com.au/environment/the-compostable-cup-you-cant-compost-and-the-trouble-with-our-recycling-system-20170701-gx2kpu.html