Are you sure? If you change your country now, any items you have added to your quote will disappear.
Your location
Please set your location to see relevant stock levels. Freight costs and taxes will be calculated once you log in.
Note: changing your location will empty your cart.
Circular packaging design cannot be done in isolation. Group General Manager - Marketing & Innovation, Tom Lunn, was recently invited to address the Australian Packaging Covenant's National Workshop on Problematic and Unnecessary Single-use Plastics, regarding circular design.
Circular packaging design cannot be done in isolation.
Designers still need to ensure materials are sustainably sourced, that recycled content is maximized, designs are optimized for material and manufacturing efficiency and that the product can be reused, recycled or composted as defined by the appropriate standards and test methods.
Where a truly circular design approach differs, is that the designers need to look ahead at how they are going to 'pass the baton' on to the consumer, and how the consumer can realistically move the packaging on to the collection leg of the race, before a recycler takes the pack and turns it into an ingredient or product that goes to an end market, that then gets turned back into another product, completing the circle.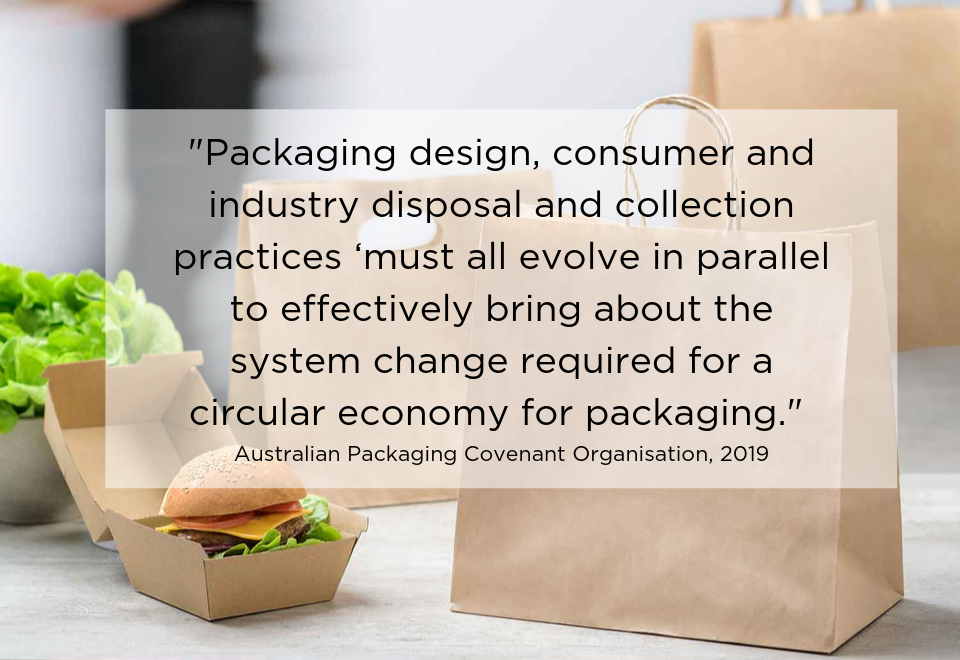 Phasing out single-use plastics is a circular relay race
Simply buying a 'bio' product is not a circular result. Gold medals aren't given out at the first baton change, instead the packaging needs to successfully pass from the consumer to the collector to the recycler to an end market and then back into a new product before the relay is truly won.
Designers can help this process by choosing consumer messaging such as the Australasian Recycling Label (ARL), that assists education and consumer understanding of responsible disposal in the appropriate 'recovery channel' (or which bin to use). Collectors and MRF's want products that are designed to suit their operations, such as paper and cardboard or PET streams, not multi-material laminates or difficult to identify plastics.
The forward thinking approach to material selection also assists the recyclers, who want resource streams that can be commercially processed and then sold in viable end markets. Designers can't just consider whether a plastic barrier will serve a purpose for the product, they also need to consider whether the barrier selection will impact on the sorting of that product once used or if it reduces the future value of that resource.
Composting has a place where there is significant food contamination, and food organics collection is accessible, but given that only 16% of Australia's councils offer kerbside food organics collection (National Waste Report 2018) it is not a solution for the mainstream.
In order to win the relay race everyone needs to work together. Designers need to consider the needs of the business buying the packaging, but also the consumer and their understanding of what they need to do, the collector and their requirements, the recyclers and material end market drivers, to ensure the baton can be passed right around the circular path. The Detmold Group recognizes this and that is why their industrial designers have visited MRF's, they are trained in the PREP tool, the ARL and consumer labelling guidelines and Detmold work with partners like Shred-X, Planet Ark, industry associations, recyclers and composters so that it is well placed to advise customers how to achieve the best circular outcomes for their packaging and situation.