Are you sure? If you change your country now, any items you have added to your quote will disappear.
Your location
Please set your location to see relevant stock levels. Freight costs and taxes will be calculated once you log in.
Note: changing your location will empty your cart.
The carton delivering a whole lot of crunch
October 30, 2019
The popularity of food delivery continues to grow – with the global revenue growth rate anticipated to remain high at 9.9% per year until 2023.
One of the most commonly ordered items is chips yet consumers consistently find that their chips arrive soggy.
Detpak has introduced the Keep Crunch Carton – designed for delivery and promoting a crunchier chip, and also great for other fried foods.
This innovative new carton features a raised floor with portioned vents to maximise airflow and allow steam to escape.
This new product went through extensive testing in Detpak's rapid innovation centre, LaunchPad, to ensure functionality of a new design.
Product Designer Tom Hilder explains how the Keep Crunch Carton solves the problem of the soggy chip, as well as maintaining the crunch for a variety of fried foods.
"It was late 2017 when we started developing a carton for a customer, under the brief of keeping chicken hot and sealed yet allow for accompanying chips to remain crunchy," Tom said.
"We starting researching current packaging and it was clear that there was a consistent complaint from consumers receiving soggy chips.
"Chips are a significant component of food delivery, a popular item, and make up such a large component of a meal. But chips were consistently missing the mark, and it was a let down for the whole meal."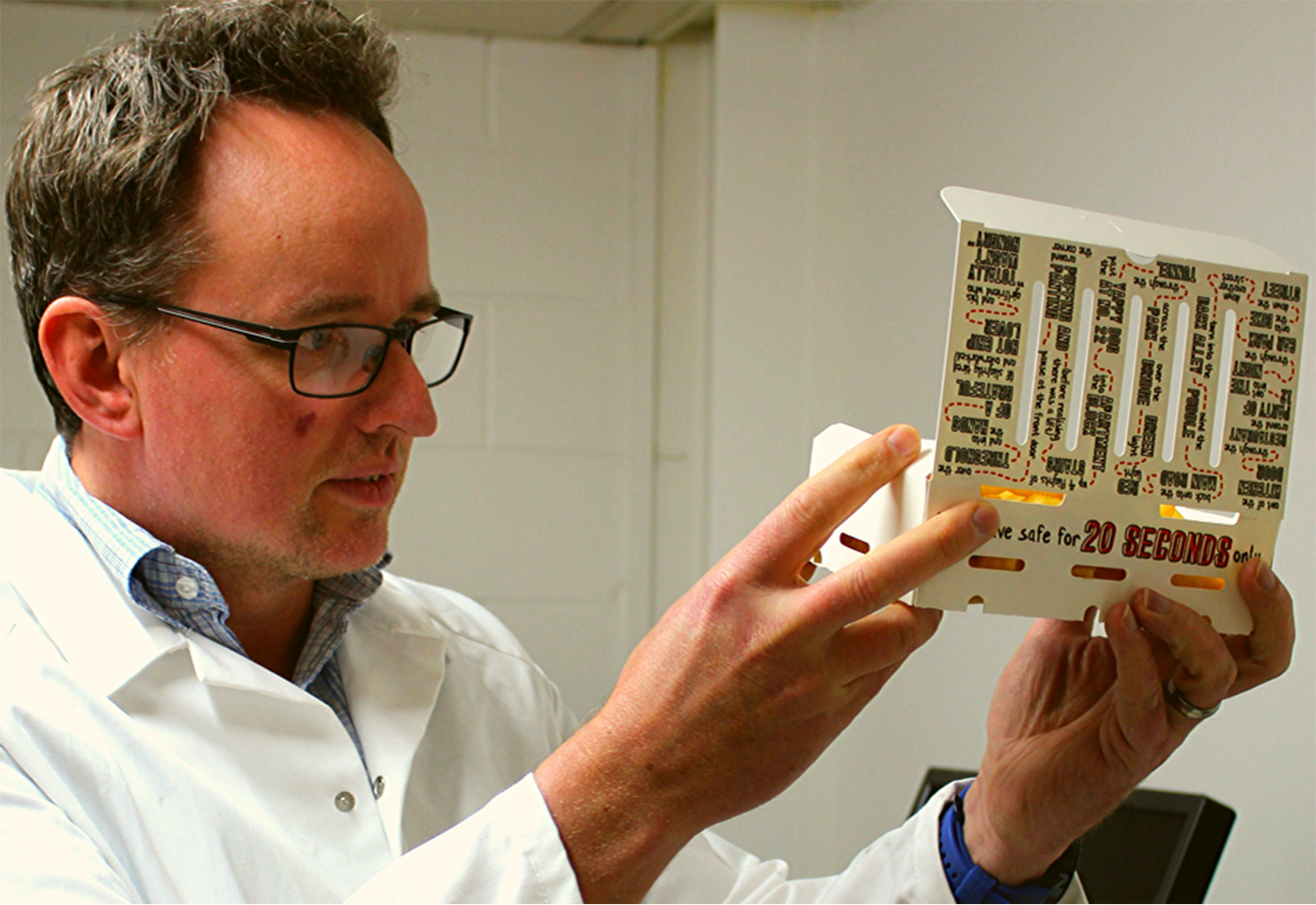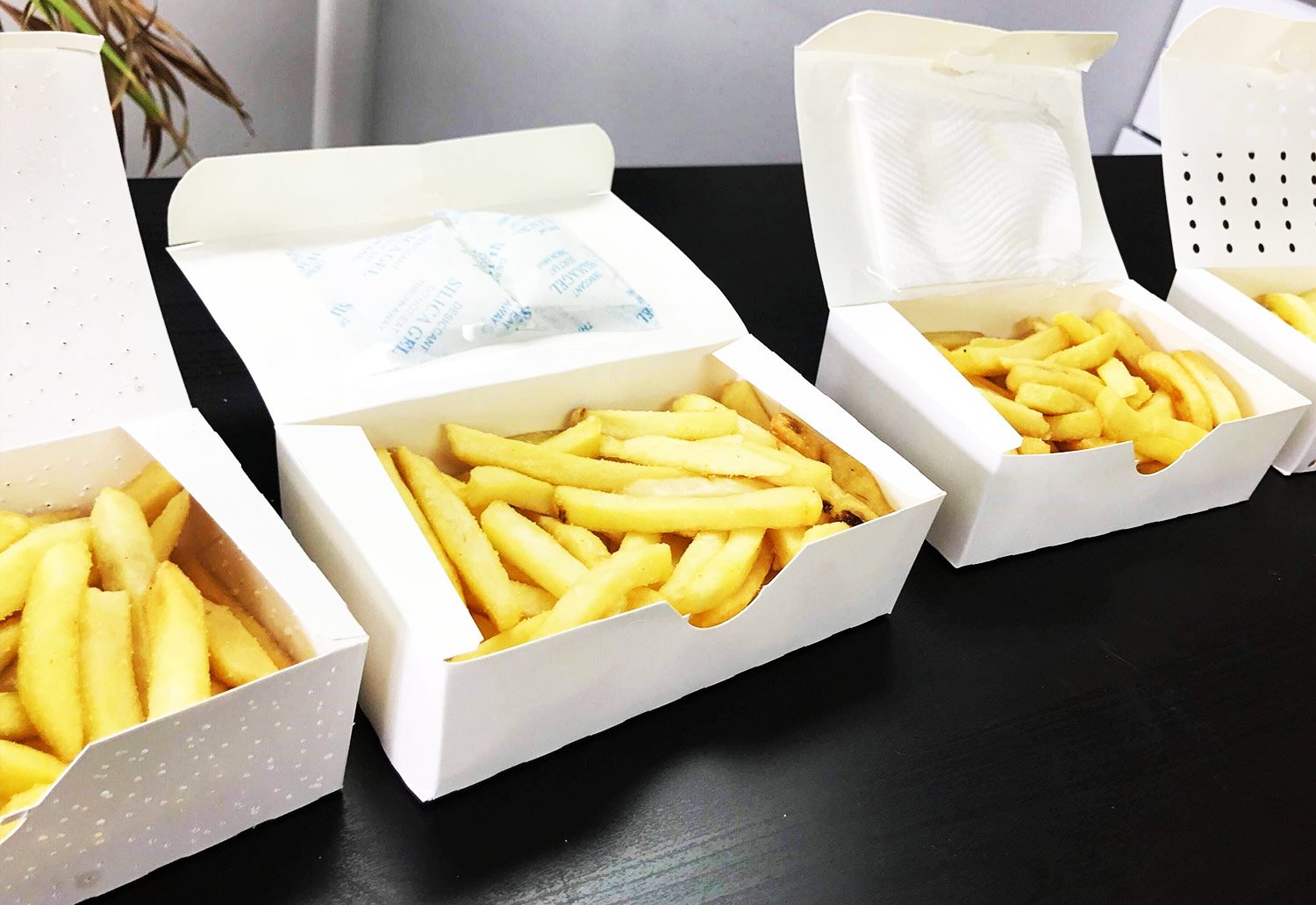 Tom explained that there were more thean 50 iterations of designs prototyped.
"Our designs needed to promote heat retention but also allow chips or fried food to vent.
"In early stages, we investigated ways to soak up moisture from chips.
"This included trialling a meat tray pad, desiccant sachets, remnants of paper pulp and different raw materials to see how board type impacted on the crunch of the chips.
"We also trialled different shapes of the carton, a shallower versus deeper, a corrugated fold in the base of the carton to facilitate air under the chips, and what different design elements such as perforated board would have."
Tom explained that extensive testing took place at Detpak's rapid innovation centre, LaunchPad.
"Our testing included sourcing chips cooked in the same environment, loading them into trial cartons, and allowing them to sit in an insulated bag for twenty minutes to replicate the food being delivered," Tom said.
"The temperature was measured to see how products had performed in the area of heat retention, but our main consideration for these trial cartons was always promoting a crunchy chip.
"We would pour the chips from test cartons onto plates, so they would be presented the same way. Then a series of test subjects would taste-teste and rank the chips in order of crunchiness.
"We performed this crunch test on several occasions, refining designs as we went."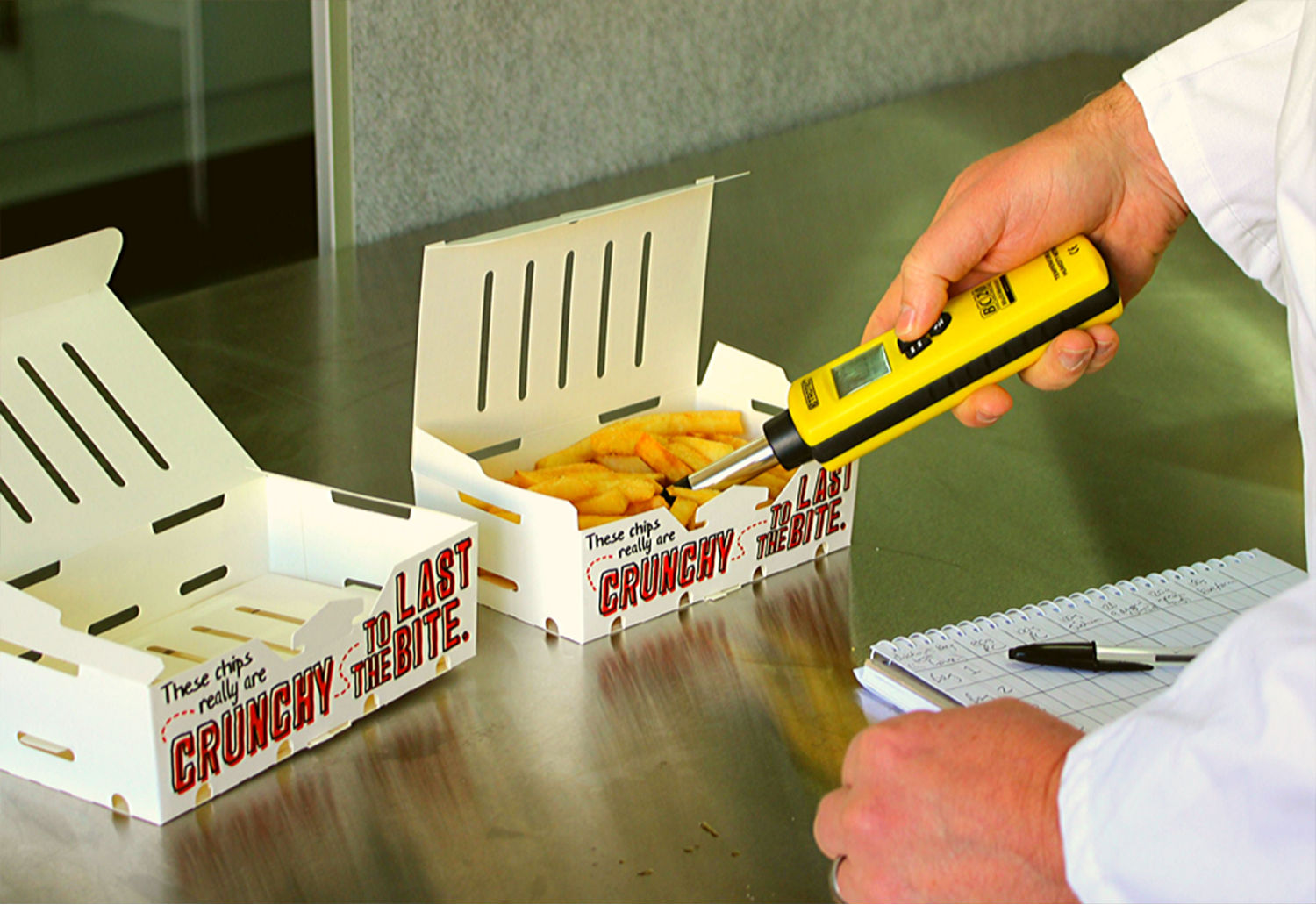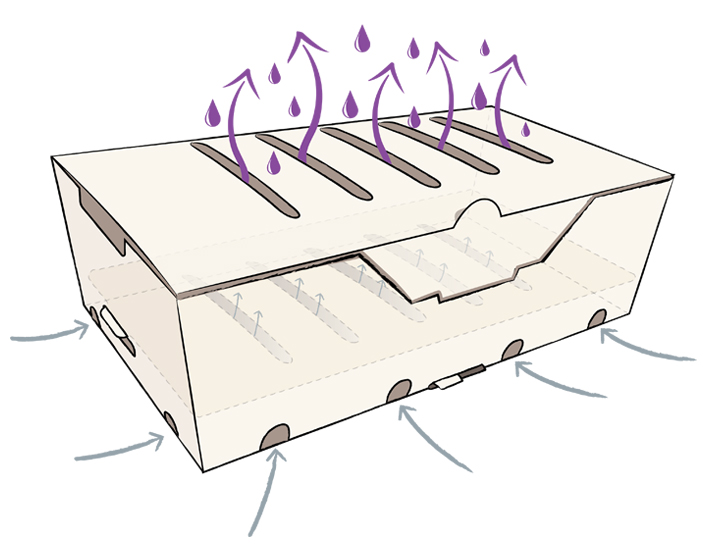 Tom said the Keep Crunch Carton incorporated the most successful elements of the protoype designs.
"This carton utilizes something called the stack effect.
"Air is drawn into the carton at the base and then vents at the top of the carton allow moisture filled air from the chips to rise and escape.
"We ended up with a relatively shallow carton to allow the chips to spread out, so they aren't piled on top of one another.
"And we used a tamperproof catch to guarantee chips would arrive at a consumer's door just as they left the restaurant.
"This one-way venting that the stack effect promotes works well in balancing heat retention and moisture escaping, promoting quality for food delivery," Tom said.
"There are so many areas of food delivery where I think similar design concepts can be explored and applied. This is an exciting and growing segment of the market to be designing packaging solutions for."
Tom Hilder - Product Designer, LaunchPad
Available in small and medium sizes, and great for chips or other fried foods, check out the Keep Crunch Carton now.