Are you sure? If you change your country now, any items you have added to your quote will disappear.
Your location
Please set your location to see relevant stock levels. Freight costs and taxes will be calculated once you log in.
Note: changing your location will empty your cart.
Detmold Medical Recognised as leading SA Health Supplier
November 12, 2020
South Australian manufacturing company Detmold Medical has been recognised with the SA Health Partnership Award for their supply of critically required PPE during the COVID-19 crisis.
After being approached by the State and Federal Government earlier in the year, the Detmold Group announced in March it would localise the supply of PPE to secure supply for Australia.
Now manufacturing one million masks per day, Detmold Medical has been recognised for its collaboration with SA Health to understand and deliver on product needs for frontline healthcare workers.
Detmold Group Chief Executive Officer Alf Ianniello said that the SA Health Partnership Award was testament to the collaborative work of industry and government on this project.
"We are immensely proud to receive the SA Health Partnership Award for 2020, recognising a significant project for us in localising the manufacture of PPE," Alf said.
"This could have been an 18month project, but we executed in just 18 weeks.
"We commissioned over 20 pieces of equipment and employed over 200 people.
"To have executed this project at a time of incredible pressure due to the impacts of COVID-19 is a credit to not only our Detmold Medical team, but to our collaboration partners, such as SA," Alf said.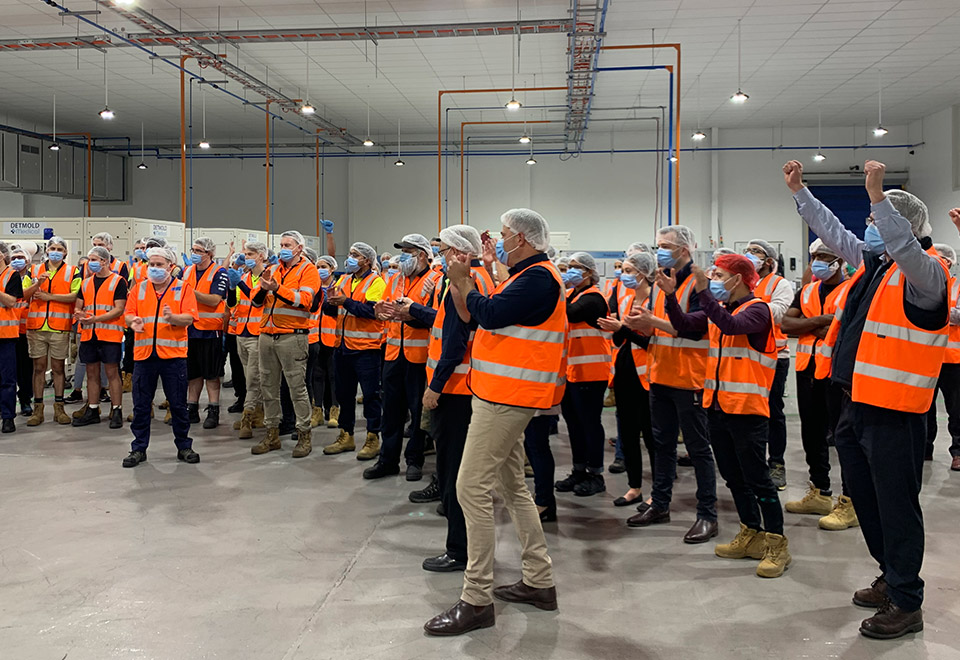 Presented at the Virtual Supplier Conference, Head of Supplier Relationship Management Pratiksha Becker noted challenges in supply during 2020.
"This year, more than ever before, has taught us the importance of supplier relationship and I would like to commend my many procurement colleagues and our suppliers for their tireless work in supporting SA Health during the COVID-19 pandemic," Pratiksha noted.
"The suppliers that became critical were mainly in the Personal Protective Equipment (PPE) space.
"A highlight was the face mask project and to partner with Detmold Medical, a South Australian company that had their heart in the right place to support South Australia and in fact all of Australia with face masks.
"Detmold Medical continue to work with SA Health on enhancing design and features and have built a fantastic plant in a very short time frame."