Are you sure? If you change your country now, any items you have added to your quote will disappear.
Your location
Please set your location to see relevant stock levels. Freight costs and taxes will be calculated once you log in.
Note: changing your location will empty your cart.
Detpak packaging is used by brands around the world to help showcase their products. Read on to learn how different foodservice businesses use Detpak to find the right packaging solutions to fit their needs, and enhance their brand.
SPAR Alexandra Headlands
Challenge
Queensland is poised to ban the bag, with single-use plastic bags being banned across the state from July 1, 2018. But SPAR Alexandra Headlands supermarket were ahead of the times, with owners Bruce and Sue Luchterhand previously living in South Australia, where the plastic bag has been banned since 2009. Bruce Luchterhand approached Detpak in July of 2017 about making the move to paper bags.
Process
The Detpak team worked with Bruce on providing several sized bags as viable alternatives to his previous plastic options. The team also assisted in designed paper uniforms for Bruce's team to wear as part of the launch of the store's move to paper, which attracted attention from locals and media. The bag designed for SPAR also featured key facts about why Detpak champion paper, making this an education tool as well as a strong and sturdy alternative to the plastic bag.
Impact
Bruce and SPAR decided to go with two different sized paper bags, available for purchase at 30c and 40c, with 5c per bag going toward a charity to keep Sunshine Coast beaches clean. Customers have been positive about the change, knowing that the move to paper is the more environmentally responsible option. Bruce said that customers are even bringing their paper bags back with them on repeat visits and recycling them numerous times.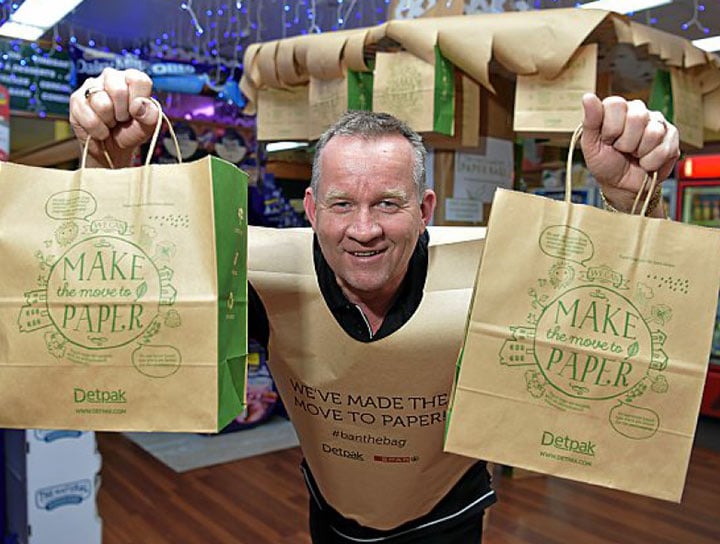 Thanks again to the Detpak team and we look forward to being pioneers in bringing back 'paper'. We could not have done it without your teams amazing support. I would encourage anyone that can to '#banthebag' and bring back paper!
- Bruce Luchterhand, SPAR Alexandra Headlands