Are you sure? If you change your country now, any items you have added to your quote will disappear.
Your location
Please set your location to see relevant stock levels. Freight costs and taxes will be calculated once you log in.
Note: changing your location will empty your cart.
Top tips to reduce your use of plastic
July 1, 2021
Plastic pollution has become a significant global environmental issue, as demand for and production of disposable single-use plastic products rapidly increases. 'Throwaway culture' contributes to this issue, as convenience is prioritised over sustainability and consideration of long-term environmental impacts[1].
Today, single-use plastic products account for forty percent of the total plastic produced each year[2]. Some of the most common single-use plastic products such as plastic bags, straws, cups and water bottles are used for just minutes to hours, however, exist in the environment for hundreds of years after disposal[3].
Everyone can make a difference by taking small actions everyday to reduce reliance upon plastic products.
This Plastic Free July we challenge you to consider your current usage of plastic and look at ways to reduce your consumption.
It is easier than you might think and to get you started, we take a look at five top tips to reduce your use of plastic in everyday life.
Tip #1 - Choose paper bags over plastic
Light-weight single-use plastic bags are now banned Australia wide, however, other plastic alternatives are still available. One of the simplest actions you can take is choosing to use paper bags for your next grocery shop.
A key benefit of paper is that it decomposes far quicker than plastic, which can take up to 1,000 years to decompose[4].
Detpak paper carry bags are a sustainable solution, that do not compromise on functionality. The bags have the ability to handle chilled environments or condensation from products, and can hold up to 6kg in groceries.
After use, paper bags can conveniently be disposed of via your kerbside recycling bin and live again as part of the circular economy.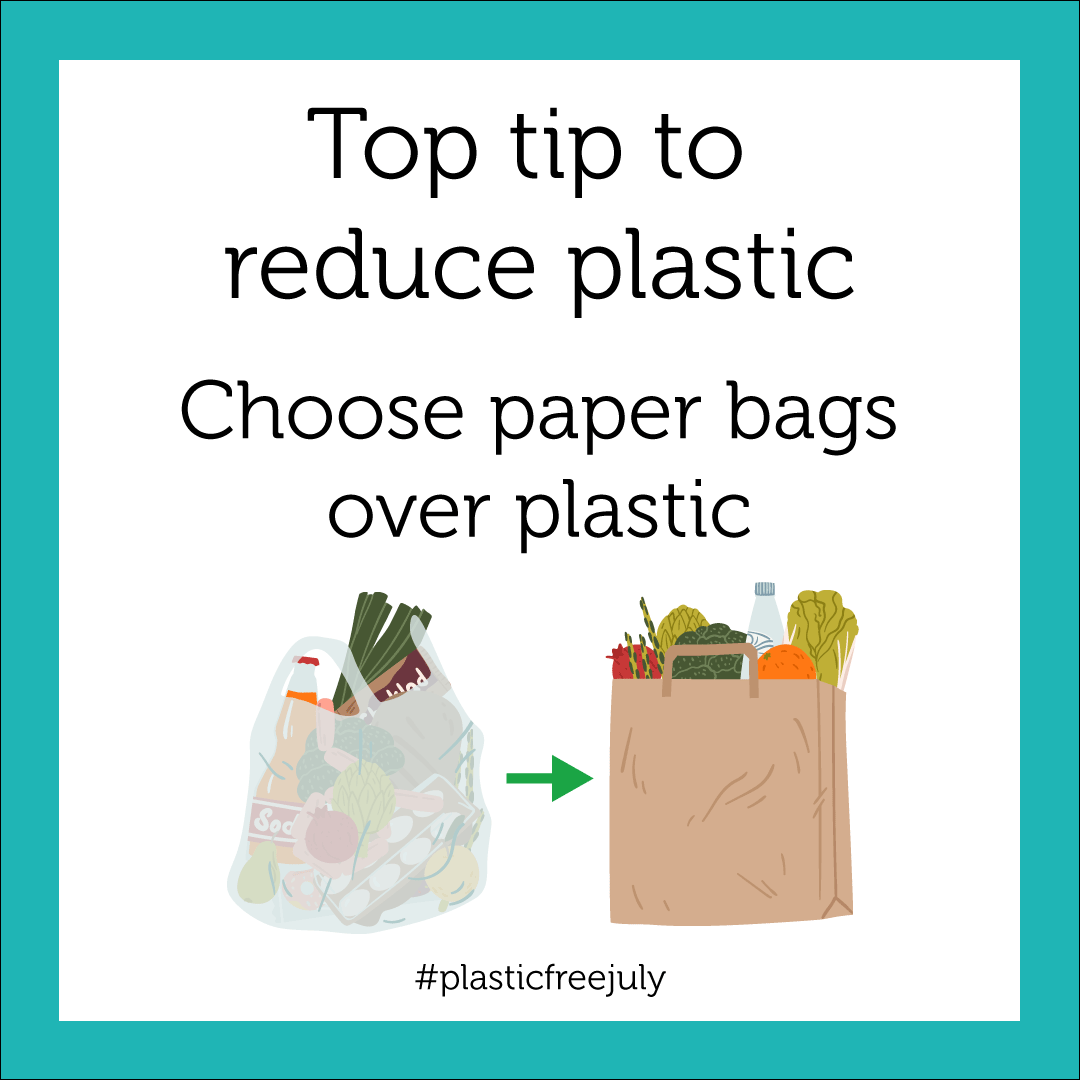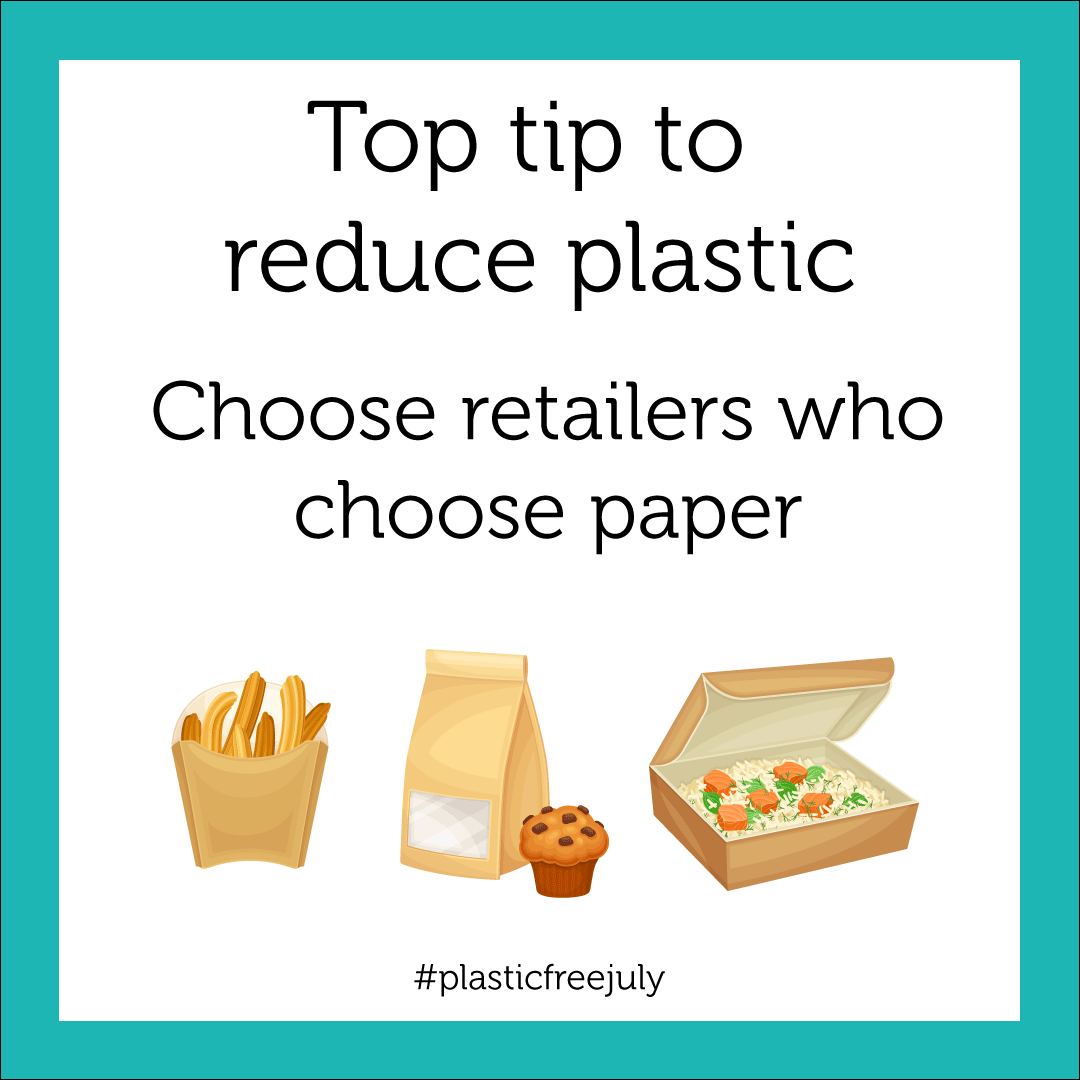 Tip #2 - Choose to shop at retailers who choose to use paper packaging
Choosing to purchase from retailers who make environmentally responsible packaging choices is an easy way to reduce your use of plastic, while supporting businesses who value sustainability and make ethical considerations.
Next time you visit your local grocery store or coffee shop, check out the packaging options that are available and choose the sustainable alternative.
Whether it's purchasing apples in a market tray, purchasing baked goods in a paper bag, or using a paper checkout bag to carry your items home, every small action makes a difference.
Tip #3 - Move to RecycleMe™ hot cups
Cups are one of the most commonly used single-use plastics, and cups with traditional plastic lining can be difficult to recycle, resulting in them often ending up in landfill.
Unlike traditional plastic lining, our next-generation RecycleMe™ lining uses 40% less plastic, making our products genuinely recyclable. All RecycleMe™ packaging can be recycled back into paper, which can be recycled up to 7 times.
Through making the move to RecycleMe™ or purchasing from cafés using RecycleMe™ cups, you can both reduce your plastic usage and contribute to preserving the environment. To-date over 2 million RecycleMe™ cups have been collected for recycling into paper, and over 500 trees worth of paper saved from harvest.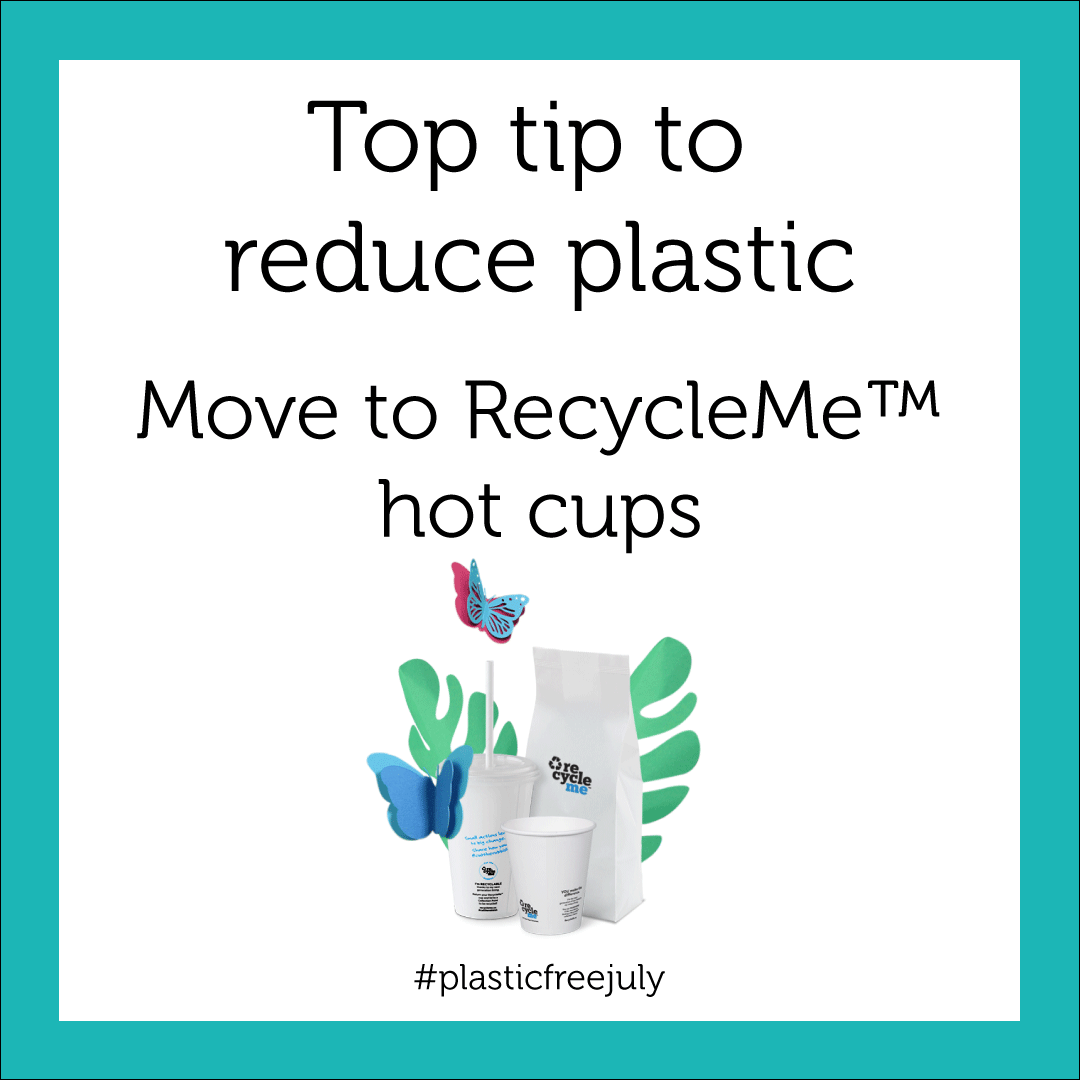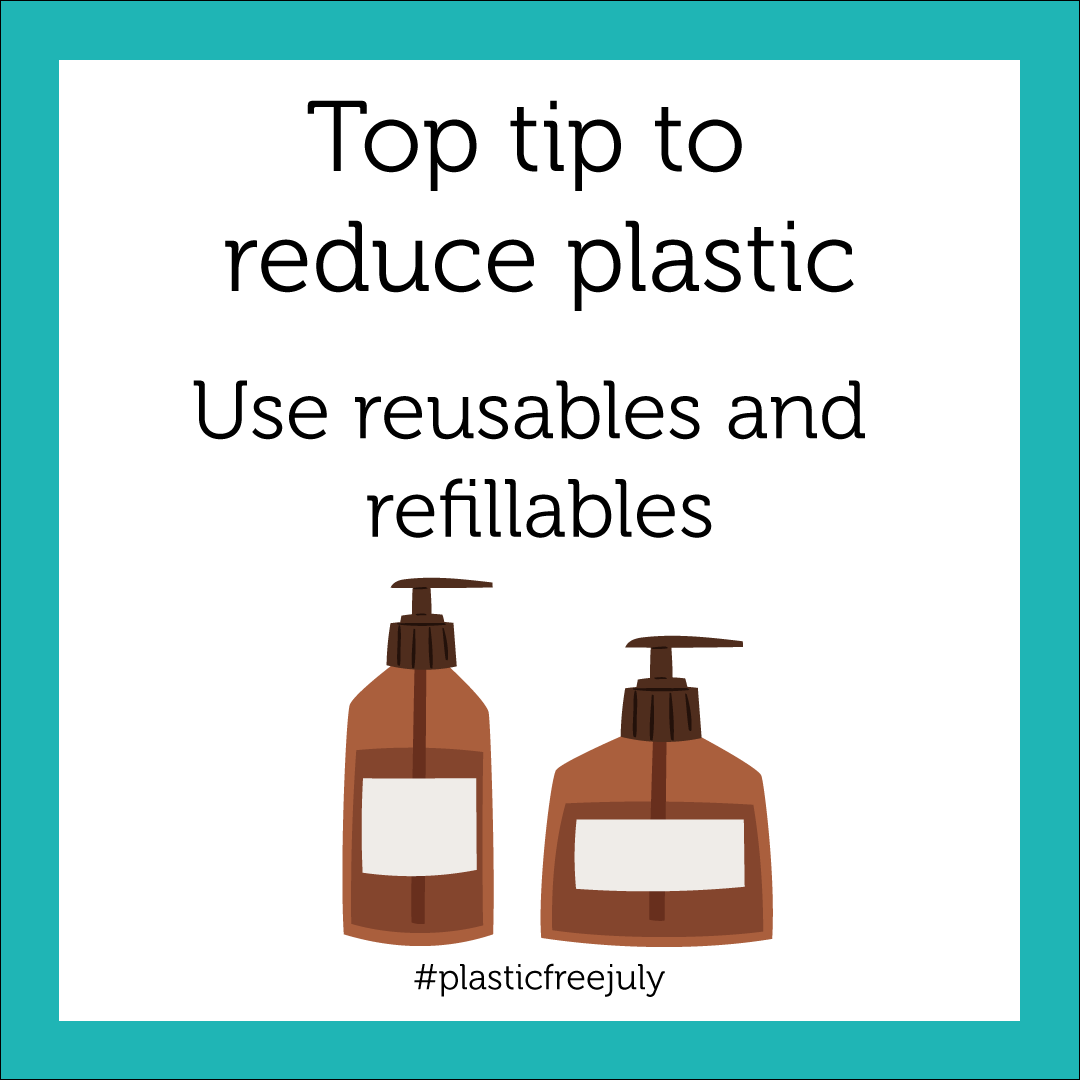 Tip #4 - Use reusables and refillables where possible
Although not always practical or convenient, where possible, using reusable and refillable products can significantly reduce your consumption of plastic.
One of the ways in which we have reduced our use of plastic in the Detmold Group office environment is through purchasing handwash and dishwashing liquid from Zero Co.
Using the refill system from Zero Co eliminates the need for single-use plastic products as the dispensers remain in the office and are refilled as required. Empty refill pouches are returned via post, and are then cleaned, refilled and reused again.
Tip #5 – Correct disposal of compostable packaging
Understanding how to correctly dispose of your compostable packaging is important, to ensure that the products can be properly collected for commercial composting.
Food packaging heavily soiled in saucy or tacky cheesy foods which meet global composting standards, such as the European Standard EN 13432, the Australian Standard AS 4736–2006 or the American Standards ASTM D6400 and D6868, can be commercially composted for those who have access to appropriate collection.
Please check with your local council for compostable packaging acceptance.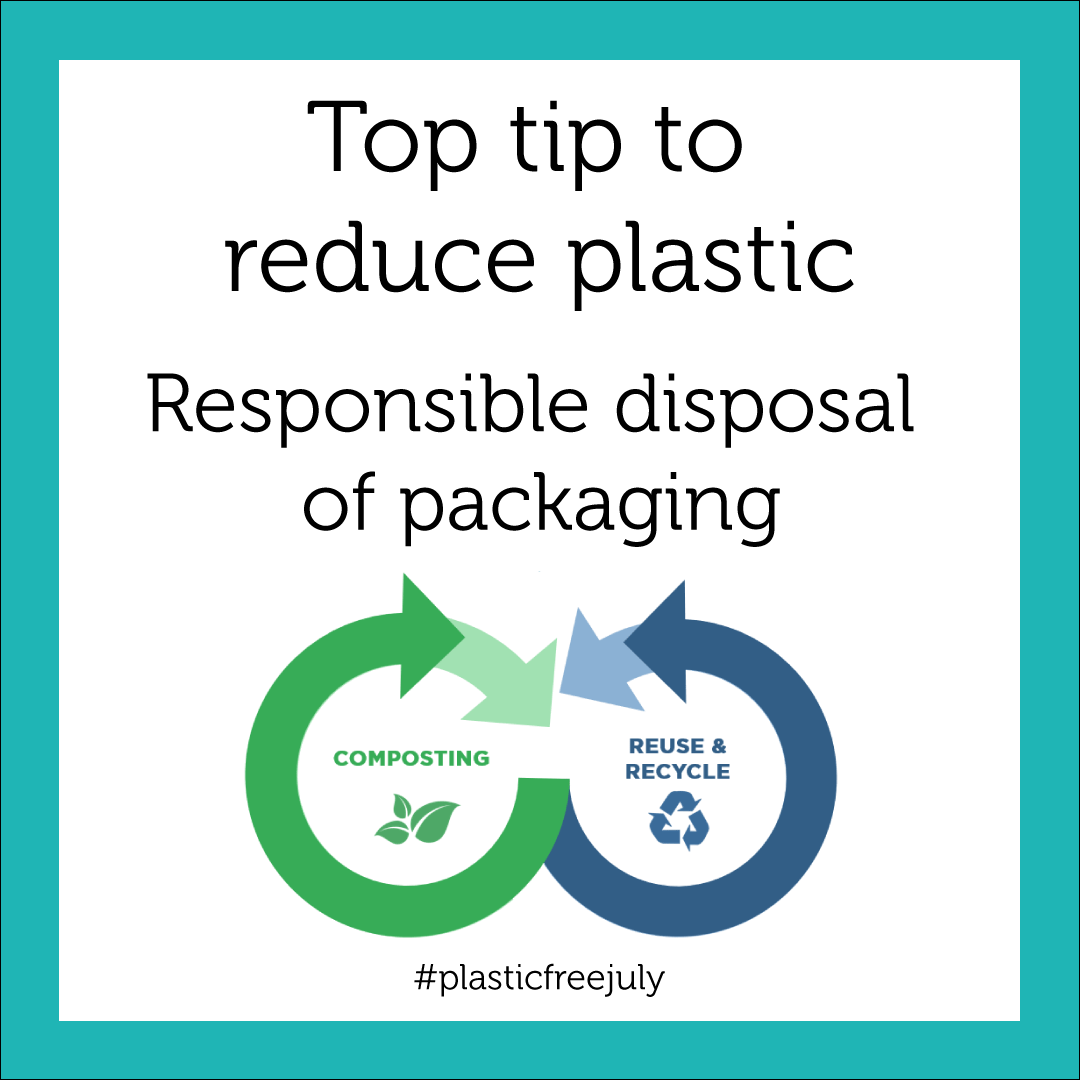 This Plastic Free July, challenge yourself to reduce your use of plastic. Even the smallest actions can make a difference.
If you're thinking about making a sustainable move in your business, our range of paper and board-based packaging solutions are readily available and make your choice easy.
Browse our range.
Or, back to Plastic Free July.
References
[1] https://www.nrdc.org/stories/single-use-plastics-101
[2] https://www.nationalgeographic.com/environment/article/plastic-pollution
[3] https://www.nationalgeographic.com/environment/article/plastic-pollution
[4] https://www.bbc.com/news/business-47027792